My second week in Nicoya has been great. Over the weekend we traveled to Samara Beach with Karla. We had a great time, had a chance to relax after our first week of school and seen a beautiful sunset! As the week ended at San Ambrosio I seen an improvment in my student´s behavior and teaching is becoming easier and not so exhausting. They have continued to improve this week also and I feel that we have got a lot of things accomplished. I introduced my third graders to their pen pals from Green Valley School. They were very excited to get to know my other students from the United States. We worked this week on the letters to send back to Green Valley and so far the progress is good. I really been tested with the language barrier through this experience. I found myself speaking more and more Spanish (with the help of a Spanish/English Dictionary).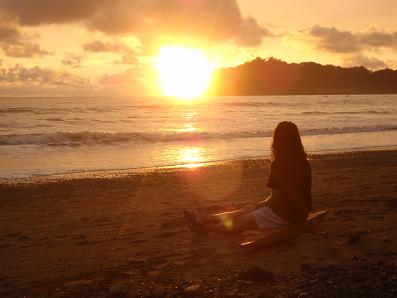 Samara Sunset
This week I went on a field trip to Costa Rica capital city, San Jose with my 31 fourth graders. The trip made for a long day but we had a great time. We visited the Museum of Natural History, the Post Office, Gold Museum, and the InBIOParque. The kids had a wonderful time and we got to see a different part of Costa Rica. I also worked with my fourth graders on a presentation that we will do for the school next week. We learned about preposistions and then played a prepositional game outside. after the game we wrote a prepositional poem as a class about a day at the beach. There were a few struggles during this activity but it turned out to be a success. The students were almost confused because they got out of their seats and down on the floor for us to talk and then we went outside and played. The students are so used to sitting in their seats and copying what is wrote on the board that they didn´t know what to do. It was nice to show them something different.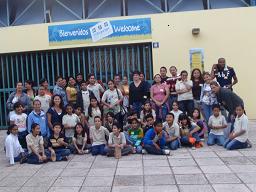 My fourth grade class at the INBIOPARQUE!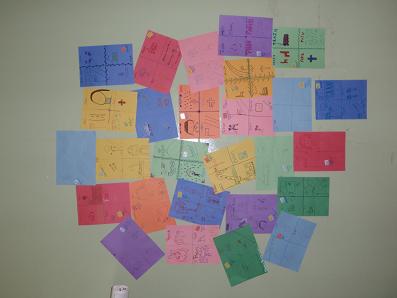 Pictionaries the fourth grade made on ai words.
I was able to experience a San Ambrosio tradition put on by the highschool seniors. The only problem was that it was at 1:00 a.m. on a school night. In Nicoya highschool seniors go around to their professors homes and ceranade them with a thank you song! They start this journey at 12:30 a.m.and were at Karla´s house, right outside our bedroom window at 1!!! It was a beautiful yet loud performance, just way too early for me! This has been a tradition for many years, Karla remembers doing the same thing when she was a senior!
My second week in Nicoya went very well and I am excited to finish out the school year and visit this beautiful place called Costa Rica!!!